Artist Talk with Brenda Reid
---
Brenda Reid is an emerging non-binary multi-disciplinary artist based in Kitchener, with a background in architecture. Their work deals with the complexity of care relationships and thinking about ethics in urban living, often in ways the artist finds humorous or clever. Their practice regularly engages the public in collaborative art and learning experiences, from large-scale projects to interactive time-based installations. Currently, they are tackling questions of care through combinations of media, including textile, animation, printmaking, sound work, photography and sculpture. Brenda holds a Masters of Architecture from the University of Waterloo and has completed residencies in Kitchener, Guelph, Hamilton and St. John's.
On August 19th, 2023, a small group of interested listeners gathered at the Shelldale Centre's community garden to hear Brenda Reid's artist talk. This was the first planned event of the residency. I learned a lot from this event, but mostly how missguided our expectations and desires are when it comes to "success", and the amazing things that come from defying those expectations.
8 people, including myself, Brenda, and their partner Brendan, attended this event. I remember when the clock struck 1:00pm, and I realized this was the maximum size of my audience. The fear that struck me- immediate feelings of failure and self-pity, were hard to conquer.
And then I had the best day anyway!
From One Queer to Another
is about providing space and opportunities for queer artists to develop skills, practice vulnerability, and think critically about the kinds of expectations we adhere to in cisnormative society, despite our identities and experiences going directly against those systems.
Listening to Brenda talk openly about their experience, and address this talk to
me
because they could see the ways I would benefit from the knowledge they could share, completely encapsulated what I hoped this residency could be. I learned so much from Brenda, and because I'm autistic and have trouble dealing with crowds and noisy spaces, I was actually able to absorb Brenda's talk and enjoy it, rather than feeling occupied with the energy of the crowd and how to deal with a high population of people.
After their talk, those of us in attendance pulled some tables together and had a casual, light-hearted conversation about our experiences as artists, institutional barriers we've faced, what we wish we could be doing, what we've done, and so on. We reflected on Brenda's topics, but we also engaged with each other in the comfortable way you can only achieve in a small group of folks who genuinely trust each other and enjoy each other's company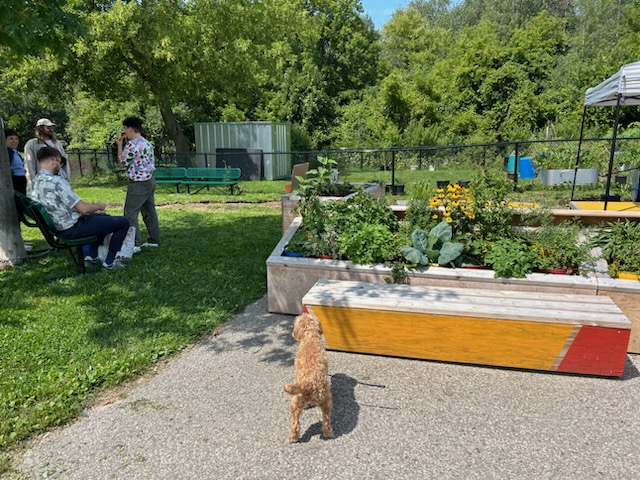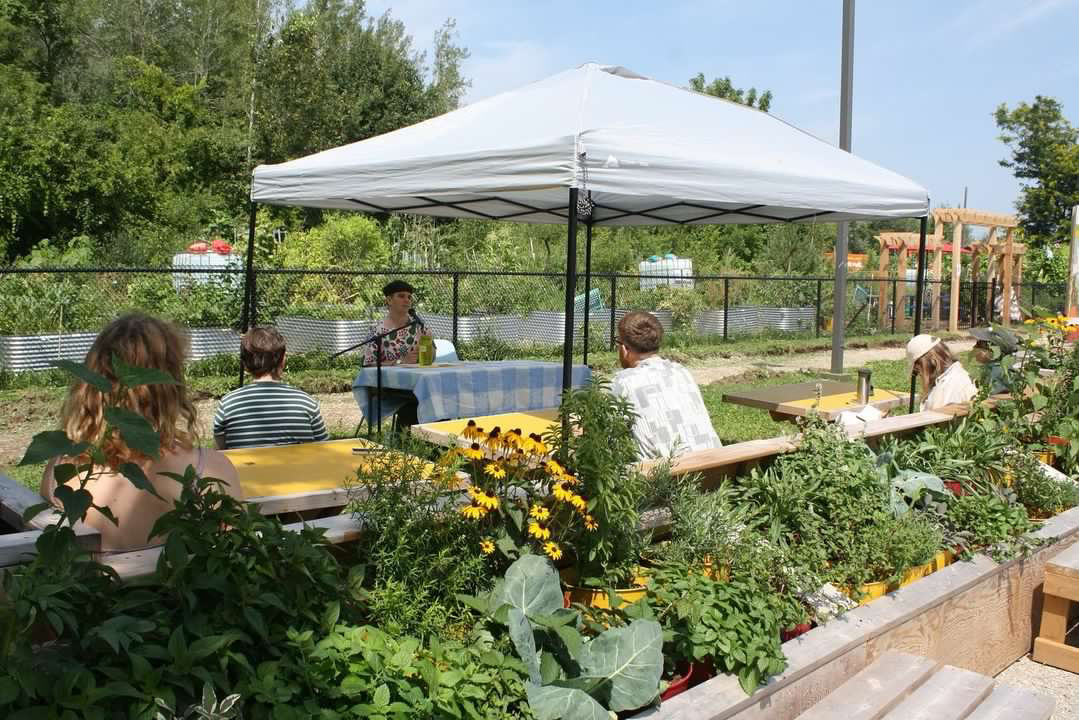 Thank you to Leisha Burley and the
Shelldale Centre
for hosting us that beautiful day.
Thank you to Dan from the
Guelph Neighbourhood Support Coalition
for providing the technical setup and tent with such short notice!
Thank you Brendan from the Guelph Neighbourhood Support Coalition, and Alisa from
Art Not Shame
for recommending this space to me.
Thank you to
Wyndham Art Supplies
for hosting the painting created in response to this event in their window gallery for the month of September!